Segment Leading Fuel Economy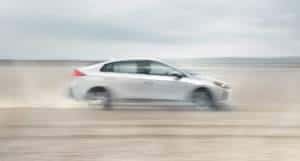 The IONIQ has a segment leading fuel economy of 4.1L/100km combined.
Win-win with an Electric Motor and a GDI Engine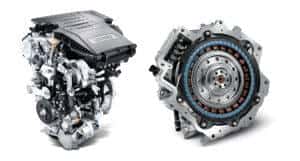 The IONIQ Hybrid's electric motor delivers 32 kW (43 hp) with maximum torque of 195 lb-ft, powered by a lithium-ion-polymer battery with 1.56 kWh capacity positioned under the rear seats.
Control your performance with 6-speed EcoShift Dual Clutch Transmission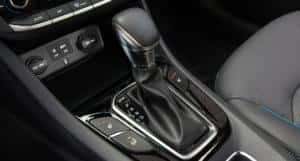 The IONIQ Hybrid features a six-speed EcoShift® dual-clutch transmission (DCT), which is able to achieve a unique mix of driving performance and fuel efficiency.
Ready, set, slow with Regenerative braking system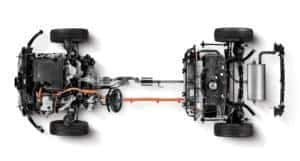 IONIQ Hybrid also features regenerative braking to maximize driver engagement and enhance efficiency.
Count on the All-new Eco-Driving Assist System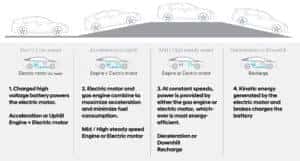 The available ECO-DAS (Eco-Driving Assistant System) set-up makes best use of several unique technologies in order to make the IONIQ as efficient as possible. ECO-DAS uses topographical information to predict hills and valleys, as well as when to charge the battery based on elevation changes along your route.
A sportier experience with Sport Driving Mode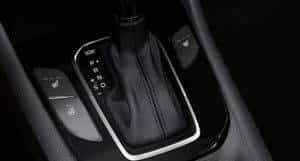 Everybody has a different take on steering feel. Some want more steering effort, others less. The IONIQ's standard Drive Mode Select feature allows you to adjust both throttle response and steering effort to match your preferred driving style. Just select one of two modes: Eco or Sport, and engage sport mode by pulling the gear selector towards you.
Comfort and agility with Rear multi-link suspension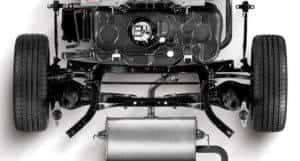 IONIQ Hybrid features a sophisticated multi-link rear suspension system with dual lower control arms, minimizing ride and handling compromises
Packed with Lithium Polymer Power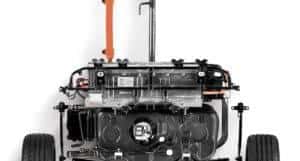 Hyundai IONIQ Hybrid's 32 kW motor is powered exclusively using energy stored in the vehicle's 1.56 kWh Lithium-ion Polymer battery pack.
You may be wondering: What happens to the batteries when the vehicle is turned-in after a long, eco-friendly life driving on Canadian roads? Hyundai has thought of that, too. Working with our supplier network, the batteries are removed, disassembled, and broken-down into individual components that are recycled to create raw materials for new products. It's yet another example of Hyundai's commitment to reducing the impact its products have on the environment.