A Superquiet interior thanks to the SUPERSTRUCTURE™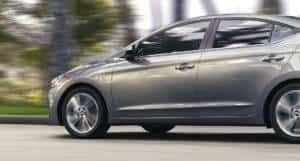 Enhanced interior soundproofing is another benefit of the SUPERSTRUCTURE™. A thoroughly-engineered structural design, increased steel rigidity, and extended application of soundproofing materials all help to keep outside noises where they belong. Whether you are navigating dense city traffic or cruising Canada's wide-open highways, enjoy greatly reduced noise and vibration levels.
Bring in sunshine and fresh air with a Power Sunroof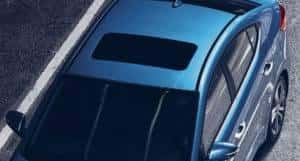 Enjoy the sunshine and fresh air with the available power sunroof.
Hands full? You'll love the Hands-Free Smart Trunk
The available hands-free Smart Trunk will automatically open when you stand within 3 feet behind the vehicle, with the proximity key, for more than 3 seconds. Just conveniently unload your two hands' worth of cargo, effortlessly.
LED Daytime Running Lights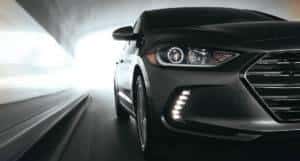 Not only visually striking, the available LED daytime running lights also provide added illumination and complement the 2018 Elantra's unique styling cues.
HID Headlights to help see what's ahead
The available HID headlights offer crisp, white illumination of the road ahead, reducing driver strain on longer trips and improving visibility. The advanced lighting technology also features HID with Adaptive Cornering System (ACS), which enables the headlights to turn with the direction of the steering wheel for optimal lighting of your path.
LED Tail Lights to make you stand out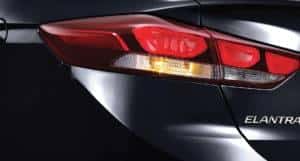 Boasting sophisticated design and outstanding visibility, the 2018 Elantra offers available LED tail lights.
A Functional Design that is sporty and fuel efficient
The sportier design cues also serve a functional purpose. Optimized aerodynamic lines of the rear spoiler and undercarriage contribute to reduced drag, while the integrated air flaps on each side of the lower bumper minimize air twisting around the wheel to provide less resistance. The result is enhanced drivability and fuel efficiency.
Get in and out easier with a 3 Stage Door Checker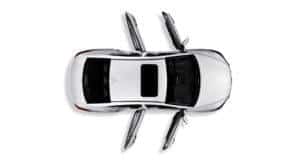 Standard on the 2018 Elantra, the 3 Stage Door Checker offers increased convenience when it comes to opening and closing your door, by opening 34 degrees, 50 degrees and then 70 degrees.
A Welcome Light to illuminate your entrance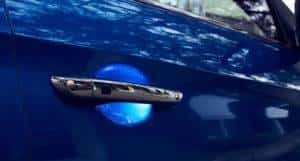 When equipped with the available proximity key with push-button ignition, the door pocket lighting will illuminate when you approach or unlock the 2018 Elantra.