Electrified Center
Should you be considering an "electrified" vehicle? Here we will go over the differences between the different types of electrified vehicles and the benefits to you, the consumer. In this buyers guide, we will simplify things so the average consumer can easily understand the differences in an easy to follow format. First, let's start with, what does "electrified" mean? "Electrified" simply means the vehicle has one form or another of electric propulsion. There are currently 4 different variants that Hyundai offers here in Canada and they are Hybrid or Hybrid Electric Vehicle (HEV), Plug-in Hybrid Electric Vehicle (PHEV), Electric Vehicle (EV) and Fuel Cell Electric Vehicle (FCEV). Now that you know the 4 different types that Hyundai has to offer, what is the difference between each and which one best suits your needs?
Hybrid (HEV)
The hybrid is probably the most common "electrified" vehicle currently.  The hybrid primarily consists of a gas engine, electric motor and a battery pack to keep things simple.  Below is a diagram of an Ioniq Hybrid that shows the layout of those components.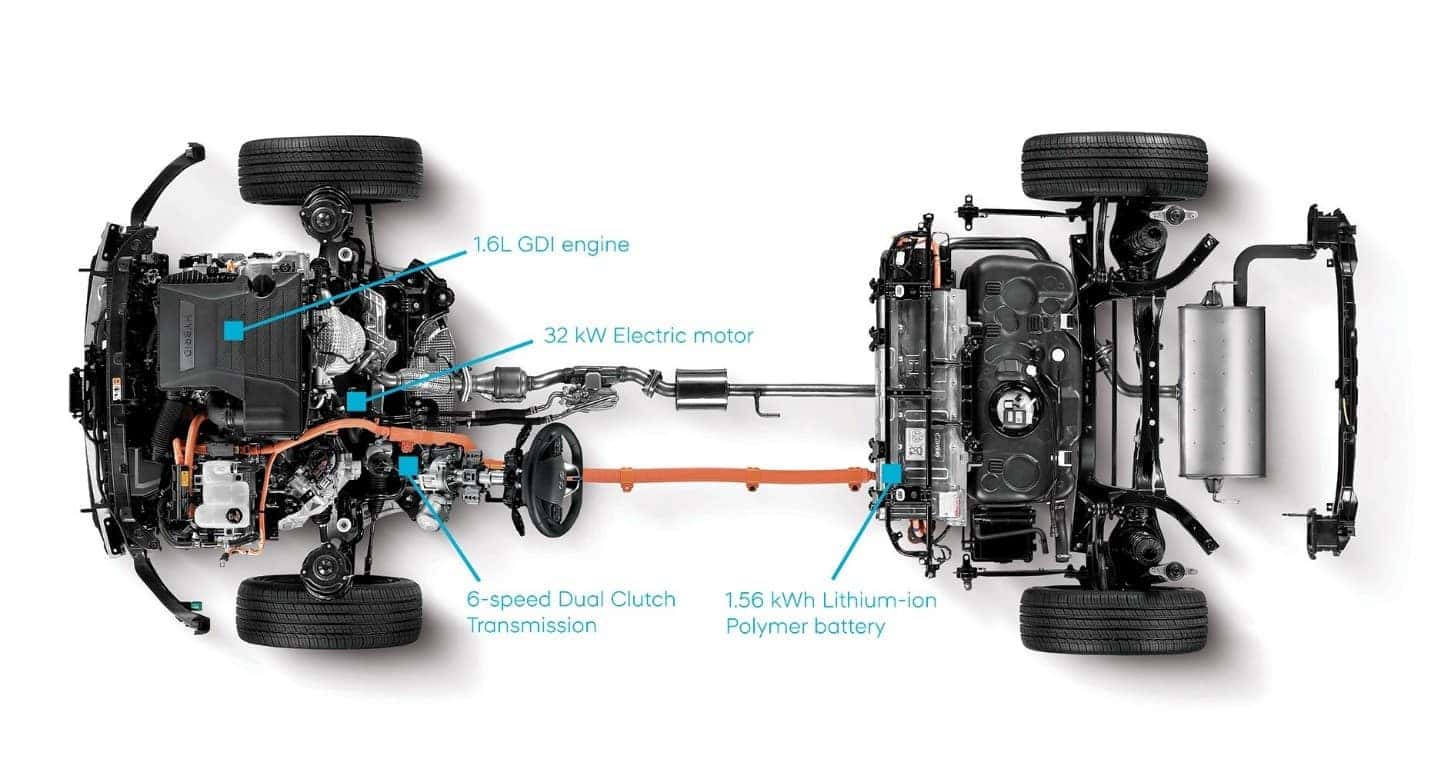 The goal of the hybrid system is to operate using the electric motor as much as possible to conserve fuel and is achieved by the gas engine running to charge up the battery pack. Once the battery pack reaches it's desired state of charge, the gas engine will shut off and the battery pack will be used to run the electric motor to propel the vehicle.  Once the battery pack depletes, the gas engine will start back up to charge the battery pack up and the process repeats itself.  This process repeats seamlessly over and over again behind the scene. Under hard acceleration it is possible to have both the gas engine and the electric motor kick in together to maximize power and acceleration.  Another way the battery pack can recharge on a hybrid is through what is known as regenerative braking. Regenerative braking allows the hybrid system to recover energy while slowing the vehicle down without using the brakes. This method can be used to maximize fuel efficiency. Hybrid's typically see 15% – 40% better fuel economy, making them ideal for anyone looking for improved fuel economy without the need to do anything differently than they would with a regular gas vehicle.  Currently the Elantra, Ioniq, Sonata, Tucson and Santa Fe are available as a hybrid (HEV).
Plug-in Hybrid (PHEV)
The plug-in hybrid is very similar to the hybrid, with the exception that the plug-in hybrid has a larger battery pack that can be charged up via an external source.   Plug-in hybrids have an external charging port that allows the battery pack to be charged at home via the included level 1 charger and a regular household outlet.  Charging the battery pack allows the plug-in hybrid to achieve approximately 45-50 kilometers of All Electric Range (AER).  Once the battery pack has been depleted, the vehicle operates just like any other hybrid.  Plug-in hybrids don't typically experience as good fuel economy as a traditional hybrid as they are carrying around the weight of the larger battery pack, however, do take advantage of being able to travel the first 45-50 kilometers on full electric.  Plug-in hybrids are well suited to those who would like to switch to a full electric vehicle but are concerned about range anxiety.  Many people have a round-trip commute of less that 50 kilometers on a daily basis, allowing many customers to go several weeks or even months on a single tank of gas.  This option is currently available on the Ioniq and soon to be available on the Tucson and Santa Fe.
Electric (EV)
Electric vehicles run fully on a battery pack, without any gas backup.  Electric vehicles can be charged at home using the included level 1 charger that comes with the vehicle or an optional aftermarket installed level 2 charger. For home charging, the level 2 charger is the most common route to go as it charges much faster than the level 1 charger.  A level 2 charger can charge the average EV in a few hours, whereas a level 1 charger could potentially take more than a day. Level 2 chargers are typically hard wired into your house by a licensed electrician. Below is a link that offers details on different chargers that are available as well as additional resources.
https://hyundai.chargehub.com/en/
Full EV's are great for anyone looking for the convenience of never going to a gas station again.  Seeing that most EV's can easily charge overnight at home on a level 2 charger, this makes an ideal choice for many customers.   Currently the Ioniq and the Kona are available as EV's, with the Ioniq 5 coming soon.
Fuel Cell Electric Vehicle (FCEV)
Although fuel cell electric vehicles are not currently sold in Manitoba, Hyundai does offer the Nexo fuel cell electric vehicle in other parts of the country.  Fuel cell electric vehicles are similar to a hybrid in that they convert hydrogen into electricity to power an electric motor. Benefits of the FCEV are 5 minute refueling time, almost 600 kilometer range and the only emission is water and filtered air.  As there are very few refueling stations at this time, the fuel cell electric vehicle is not ideal for most people.